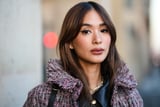 When millions of people have been staring at their reflections through a matrix of pixels on Zoom every day for the last two-plus years, it was only a matter of time before those tiny square boxes began to inform the next big trends. Nails are going 3D, eyeliner is getting flipped upside down, and hair colors are as versatile as your holiday plans have had to be of late - especially this upcoming season.
Still, according to experts, there's an underlying theme you'll be seeing with this winter's hair-color trends: each one is warm, cozy, and flattering across all skin tones. From there, you can choose to either go bold or more toned down with your color of choice. From low-key "winter gold" and "sombré" highlights to the more saturated reds or purples, the possibilities are endless.
"Obviously, there will always be your basic colors - your browns, your blonds - but what we're also seeing now is more of those 'trend' colors," master stylist Edward Tricomi of Warren Tricomi salons in NYC says. This is especially true for people still working from home. "The reason behind this is that people are thinking, 'I'm on Zoom calls all day; what better time to experiment and put some bold streaks in my hair?' We're seeing more of those types of experimental hair colors right now because it's fun and you can get away with it. Why not?" Chassidy Mickale Woods, hairstylist and ORS Haircare consultant, echoes that sentiment. "Bold colors aren't getting the side-eye like they used to and self-expression is much more acceptable. People want to make sure their profile is being noticed, especially now when most work is done virtually."
Still, if you're after something more subtle, there's plenty of room for that too this winter. Rich brown tones and multidimensional blonds will also be trending in varying depth and boldness. When you're going the permanent route, though, seek the help of a pro: "You will always get a better color job at a salon - first because you have a professional doing it, and second, they know how to work with the products in a more meaningful way," Tricomi says.
If you're looking for a little inspiration (or could just use a break before your 6 p.m. work call), we've asked a handful of experts to break down the seven hair trends worth bringing to the salon this winter. Just remember: "Have fun with your color," Woods says. "It's just hair."