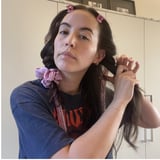 I try to keep my hair as healthy as possible. Whether it's testing out heatless hair hacks, trying essential oils for hair growth, or just laying off the hot tools, taking care of my hair is one of my top priorities. I was recently introduced to a new hands-free product that uses minimal heat to curl hair, and after testing it just once, I was sold. The GelCurler Express Curl Kit ($39, originally $59) is a microwavable hair tool that lets you curl your hair with minimal heat. It works by using a steady supply of low heat that won't damage your hair the same way a curling iron or flat iron can.
When I first got my GelCurler in the mail, I realized it looked similar to a different heatless hair tool I had tested in the past. The main difference is the GelCurler uses a low level of heat to style your hair even while dry, while the one I had tried before was designed to be used on wet hair overnight. Because you can use the GelCurler on dry hair, you don't have to sleep with it in, which is a huge plus for people who find the overnight method uncomfortable and annoying.
The kit I received in the mail came with the GelCurler itself, two large alligator clips to hold it in place, and two large scrunchies to secure my hair off at the bottom. It also came with a storage pouch and a heat protector to place the GelCurler in before microwaving.
To test it out, I placed the GelCurler inside the heat protector and microwaved it for 45 seconds on high. After parting my dry hair down the middle, I placed the now-heated curler on top of my head, securing it with the alligator clips. From there, I divided my hair into two sections on the left and right and, one side at a time, began twisting the hair around the GelCurler. When I reached the bottom, I secured it with the provided scrunchie.
I let everything sit for about 20 minutes total while I did my makeup before heading out for the day. When it was time to take out the GelCurler, all I had to do was remove the clips and scrunchies and slowly pull the GelCurler out of my hair. I was left with soft, bouncy waves that looked like the result of a curling iron. They turned out better than any heatless hair hack or tool I had tried in the past, which is saying a lot. The only downside I experienced was the waves didn't last longer than 10 hours, but I think with the right prep, they could. Next time, I think I'll wrap my hair around the GelCurler more tightly because it fell a bit on one side, making the waves look a little uneven. I also think I'll leave it in for a longer period of time in order to prolong the waves.
After just one use, I think it's safe to say this is going to be a hair tool I find myself using frequently. It's easy and convenient, and I love that I was able to use it on dry hair without having to sleep in it overnight. Plus, the fact that it's hands free and I can do my makeup at the same time is a game changer.
Rating: