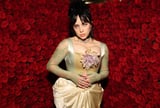 Billie Eilish has three known tattoos: a dragon leg tattoo, a fairy hand tattoo, and a script chest tattoo.
She debuted her latest, the hand tattoo, at a movie premiere.
The singer said the fairy design is from her favorite childhood book.
Billie Eilish hasn't always been open about her tattoo collection. For the longest time, she didn't show off her tattoos and even said in an interview that fans would never see her first design - a script tattoo on her chest. That all changed, though, with her June 2021 British Vogue cover. When the photos of the upcoming print issue were released in May, fans got their first glimpse at one of Eilish's pieces of ink: a dragon tattoo slithering up her thigh.
Since then, Eilish has added one confirmed new tattoo to her collection (although, given her ability to keep a secret, who knows how many designs she really has). It's a small fairy tattoo on her hand that she debuted at the world premiere of "No Time To Die" in London on Sept. 28 2021. Both the dragon and fairy design have left us wondering: what do they mean? While Eilish has only shared the significance behind her latest body art recently, the meaning is quote special.
Ahead, get a closer look at Eilish's three tattoos and their potential meanings.