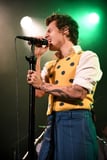 Harry Styles has upward of 60+ known tattoos so far.
The multihyphenate star got his first piece of ink at 18 years old.
Since then, Styles has accumulated quite an extension collection, which we're breaking down below.
There are a few things we know for certain about Harry Styles's tattoos: he has a lot of them, he probably has more than we think we know about, and he rarely (save for a few times) opens up about what each design means to him. The "Don't Worry Darling" actor and "Watermelon Sugar" singer got his very first - a tiny star etched on his left bicep - in 2012 on his 18th birthday.
Styles doesn't speak about his tattoos often, yet he keeps doodling all over himself. Some ink he's gotten on a whim (like "big" on his big toe) while others carry more sentimental value, like for family members. Some he even did himself, like the butterfly he stamped on his stomach, according to an interview with James Corden during his One Direction days.
How Many Tattoos Does Harry Styles Have?
While the exact number of body art etched on Styles's body is unconfirmed, we can say for sure he has somewhere north of 60+ tattoos these days . . . so far. Who knows what - or how many more - he'll get in the future. As for what we do know, and if you too are curious to know what each one means, we're sharing the information we've collected on Styles's tattoos. As for the rest of them, we'll just have to admire them and their mystery.
Disclaimer: while we did our best to be comprehensive, don't be mad if we missed one or three - like we said, we're sure he has many more where that came from
.