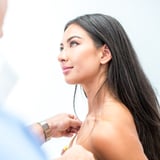 Nipple tattoos are an option for people who've undergone a mastectomy, top surgery, or just want to change the appearance of their areola.
There are tattoo artists, such as cosmetic tattooists, that specialize in this.
A tattoo artist is sharing everything you need to know about the process, including if it's painful and how much it costs.
There are a handful of reasons why someone might find themselves seeking a restorative breast tattoo: they might have had a double mastectomy, gender-confirming top surgery, a reconstruction surgery post-accident, and so on. After undergoing a breast reconstruction, getting an areola or nipple tattoo is often the final step in restoring the appearance of your chest.
"This service is most commonly offered to those who have undergone mastectomies due to breast cancer but can be helpful for anyone who has a need for it," Shaughnessy Otsuji, owner and tattoo artist at Studio Sashiko tells POPSUGAR. "I work with trans men and women and non-binary folks who have received top surgery or other chest reconstruction, clients who have burns, skin grafts, or other scarring that has affected their chest, as well as anyone who is unhappy with their natural nipples and may need reshaping or re-pigmentation."
There are tattoo artists that specialize in restorative ink, such as Otsuji, ensuring that you get the most natural, realistic results. "This type of tattooing is so emotional, yet so rewarding, and the most exciting as it yields instant results," she says. "Something as visual as restoring nipples that have been previously removed is very impactful."
Learn more about the process of getting an areola or nipple tattoo below.
How Soon After Surgery Can You Get an Areola Tattoo?
In the case of a mastectomy, it's generally recommended that you wait six to 12 months post-radiation and chemotherapy to undergo breast reconstruction.
In all cases of chest surgery, the scar should be healed before booking an appointment for a tattoo. "Scars should be completely healed and settled into the skin as much as possible before attempting to tattoo over them," Otsuji. At her studio, they ask clients to wait for a minimum of six months post-surgery. "This wait time allows for necessary healing, scar maturation, and breast settlement to take place. Areola tattoos should be the final step in the reconstruction process."
What It's Like to Get a Nipple Tattoo
Going to a tattoo artist who specializes in reconstructive tattooing will help you get the most realistic-looking results. "Every areola tattoo is completely customized to the clients," says Otsuji. "I strive to create the most realistic results by adding strategic details, highlights, shadows, and dimensions, and choosing a collection of colors that suits their skin best. The end result is an undetectable, realistic areola that looks like one they would have had naturally."
Once you're ready to start the tattoo process, you'll have a consultation with your artist. "During this consultation, we'll discuss the client's desired nipple size, placement, and pigment colors that complement their skin," says Otsuji. "I'll also want to assess the client's skin type and any scar patterns or scar tissue that may require more technical skill to achieve the end result."
From there, a custom areola design is made and applied to the chest, just like when you get a tattoo in others areas. With the stencil in place, a tattoo machine will be used to create the design on the skin. "In most cases, the skin can be quite thin, scarred, and delicate after surgery so a gentle approach must be taken when tattooing this type of skin," says Otsuji. "Any professional offering these types of services must be careful not to overwork the skin and to avoid causing more damage."
In total, this can take anywhere from two to two and a half hours to complete. Keep in mind that "it can sometimes take multiple sessions to achieve the most detailed and realistic results."
Do Nipple Tattoos Hurt?
A common question asked is if getting a restorative tattoo is painful. "The majority of my clients experience loss of feeling in the area after their mastectomy due to tissue removal and nerve damage," says Otsuji. "For those who still have some sensitivity, a topical anesthetic called Zensa is applied to numb the skin and keep the client relaxed."
How Much Do Nipple Tattoos Cost?
The price of this type of tattoo depends on the studio, as well as the amount of work needed. On average, Otsuji says her studio charges $500 to $700.