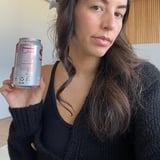 TikTok is home to many a hair-curling hack, and I've tried out quite a few of them. Whether it's using a foam rod to achieve perfect heatless curls or trying a "flip and clip" method to give my air-dried hair volume, I'm always searching for new and inventive ways to style my hair. When I saw that the hashtag #cancurls was trending on the platform, I assumed I would see people wrapping their hair around soda cans in an effort to create a look similar to what you would get with hot or velcro rollers.
However, what I actually saw was people inserting their hair into soda cans and heating up the can using a blow dryer. TikTok user and TV personality Jonathan Monroe was the first to post about the trend on the platform, and his result, like many others, was terrific, bouncy curls.
Although I watched it happen before my eyes on my TikTok feed, I still couldn't possibly understand how sticking my hair into a soda can could lead to the results I witnessed. I won't lie, I didn't have high hopes that this hack would actually work for me, but I decided to attempt the "can curls" method anyway.
To try it out for myself, the first thing I had to do was track down an aluminum can. I don't drink soda or beer, so finding the tool to test out the trend ended up being the hardest part of the entire process. After a trip to the corner store (and forcing my boyfriend to chug a Diet Coke), I had my can in hand.
Next, I washed out the can because I didn't want it to get my hair sticky from any soda remnants. Then, it was time for products. My hair is on the thin side, but it typically holds a curl well, so other than a little heat protectant, I decided against putting anything else on it. From there, I divided my dry hair into sections, took a small piece from the front, and inserted it into the can. I then twisted the can upward and outward until the entire piece of hair was inside. I used my Dyson Supersonic Hair Dryer ($430) to hit the can directly with heat for about thirty seconds - until the can became almost too hot to hold.
When I pulled my hair out, I was shocked to see that my first test piece had curled beautifully. When I tried it out on a few other pieces of hair, I found that my results were similar to everyone else's on TikTok - springy, smooth-looking curls. There were a few inconsistent pieces, but overall, the can curl method undoubtedly worked.
Despite the fact that I was able to get the same amazing results as everyone else on TikTok, I think I'll stick to my curling iron or my Dyson Airwrap for a few reasons. The can curl hack took quite a bit of time to achieve, and I didn't even curl my entire head of hair. The can was also difficult to hold when it got hot, so if you do decide to test this out for yourself, I would suggest wearing something like the Kiloline Professional Heat Resistant Glove ($5) to protect your hands from getting burned.