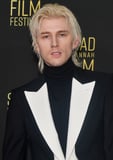 Machine Gun Kelly has gotten more experimental with his manicures since launching his nail brand, Un/Dn Laqr.
He's tried chrome nails, evil eye nail art, negative-space designs, and more.
Here, we break down some of MGK's best manicures of all time.
For far too long, conversations surrounding celebrity nail looks only encompassed women. Over the last few years, though, this has begun to shift, with people like Harry Styles, Lil Nas X, and Tyler the Creator challenging the status quo when it comes to who can wear nail polish. Another person who has been a central figure in the "menicure" movement? Machine Gun Kelly.
Though Kelly launched his nail polish brand Un/Dn Laqr in December of 2021, the musician had been wearing nail polish for years throughout his career. He flashed a red manicure with white lettering at a Republic Records Grammy After Party in 2020, wore metallic chrome nails at the Balmain show during Paris Fashion week a few days prior, and has worn black polish for more performances than we can count. Needless to say, Kelly is true to this - not new to this.
In the last year or so, the artist has upped the ante with his nail art and has been seen in everything from intricate designs to a stiletto acrylic nails that chained him to his fiancée, Megan Fox. The amount of manicure inspiration he's provided over the years is nothing short of awe-inspiring, so if you're looking for ideas for your next salon appointment, Kelly's rolodex of designs is a perfect place to start.
Take a closer look at some of the Machine Gun Kelly's best nail-art looks of all time.