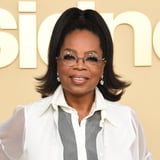 Oprah Winfrey revealed she underwent back-to-back knee surgeries last year. The 68-year-old media mogul and gardening enthusiast discussed the experience for the first time during a virtual "The Life You Want" class that live streamed on her Oprah Daily website on Oct. 11. "I had double knee surgery last year," she said in conversation with humanistic psychologist Dr. Scott Barry Kaufman. "I had knee surgery in August, and then I had another knee surgery in November."
"My appreciation for every organ and every limb has expanded exponentially."
Oprah didn't specify what necessitated the procedures, but the recovery sounded quite challenging. "When I came home the first time, I literally could not lift my leg," she continued. "I couldn't lift my heel off of the bed, and I vowed if I was ever able to get up, walk around, and move again, that I would take advantage of movement, exercise, and of being able to be fully in my body." Oprah turned to a particular outdoor activity during her recovery that wound up filling her with gratitude: "As I was rehabilitating, I started hiking. Every day, I tried to hike more and do more. My appreciation for every organ and every limb has expanded exponentially."
Oprah has since remained committed to staying active in the year following her surgeries. In a video posted on the @OprahDaily Instagram account in mid-September, Winfrey took a break from one of her hikes to share her love for the activity. "One of the things that's been the joys of summers for me is actually this uniform: a white T-shirt, my leggings that I've actually worn a hole in, walking this summer. . . . I've been hiking every day - literally hiking my butt off is what ended up happening," she joked, with walking poles in hand.
She also noticed an interesting parallel between hiking and life in general. "Here's one of the things I learned. It's a great metaphor for life, this hiking: it's that when you have the steepest hill on the mountain, you don't look at the mountain or what's ahead," Oprah said. "You just concentrate on one foot in front of the other. One foot in front of the other. And when you really want to make yourself feel good about where you're going, look at how far you've come and not how far you have to go."