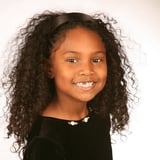 Image Source: Courtesy of Shiyenn Scott
One of the most wholesome moments on Black Twitter happened a few days ago. On Oct. 2, Twitter user Ash León asked the girls who modeled for the relaxer boxes in the '90s and early '00s to show themselves, and they did just that - in droves. For the last five days, the "relaxer-box girls" have been revealing where they are now, what their experiences were like modeling for the popular boxes, and even some behind-the-scenes secrets from the photo shoots.
"When I shot the campaign, I actually did not have a relaxer," Shiyenn Scott, one of the faces on the Kids Originals Hair Softening System box, tells POPSUGAR. "I did not have any kind of chemicals or treatments in my hair - I've still never had any besides keratin." Instead, the secret to her look was water. "They put a lot of water and probably two or three additional products in my hair," Scott says. "The stylist shook out my hair and played with it a bit to give it a lot of definition, but those were the only things that they did to my hair."
Many were shocked to find out that some of the girls on the boxes never had a relaxer, and Scott said this was her first experience learning that you can't take everything at face value. "That was a little bit shocking to me," she says. "For my shoot, all the girls were either getting their hair flat ironed or styled in a certain way to fit the look that the photographers wanted."
The modeling experience as a whole is one that Scott remembers fondly. She still occasionally finds herself on the boxes today. "The last time I saw myself in stores was about a year and a half ago, and it really surprised me," Scott says. "I still can't even believe it's me sometimes." What she's most grateful for is how this moment has brought people together and what it taught her about loving her natural features. "Even though I was on a box, I would still look at other girls on relaxer boxes and want to look like them, too," she says. "This entire experience really taught me early on how to love myself and my own hair."
As thankful as she is for this experience, many of us on Twitter are even more so for this extremely heartwarming moment on our timeline.