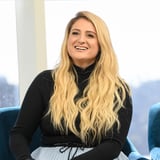 Leaves crunch underfoot and birds softly chirp for a few seconds before you hear Meghan Trainor's voice: "I love walking outside. One of the best exercises you can do for your mental health is walking . . ." she says. "After I had my baby, Riley, I would go on 45-minute walks at 5 a.m. with him and my husband. Even before the sun was out, we would look at the big trees, listen to the beautiful birds, and watch our baby sleeping."
The Grammy-Award-winning singer is speaking to us from a new episode of Apple Fitness+'s "Time to Walk" series, an audio experience you can tune into from an iPhone or Apple Watch that's aimed at inspiring people to take a stroll more often. Episodes feature various "interesting and influential people," who share stories, photos, and music while they walk.
Trainor's episode, launched today, offers an intimate look into the "Made You Look" singer's rise to fame, her experience with mental health, and "how motherhood helped her find her true joy." She shares that morning walks have become a ritual for her small family, which starts with putting away phones and reconnecting before they start their busy days. "My husband and I call it 'therapy time,'" she says. Between her demanding tour schedule and family time, prioritizing her well-being and mental health has become more important than ever - something she learned to do back in 2017 when she had her first panic attack.
"When a doctor tells you there's something wrong with your brain it's the scariest thing ever, so I went on anti-depressants and it saved my life."
After her single "All About That Bass" led to three Grammy nominations and a win (Best New Artist in 2016), Trainor says things got a little "chaotic." Touring in her early twenties left her exhausted from traveling, constantly getting sick, and feeling isolated from her family. The breaking point was when she needed vocal surgery in 2017. Soon after recovery, her assistant was listing out everything she needed to do that week - and Trainor suddenly couldn't breathe. "I thought, 'this was it, I'm going to die like this,' and my husband, who was my boyfriend at the time, was with me calming me down."
Trainor says she was an anxious kid for her whole life, but this was different: "It felt like something was taking over my body." It was a panic attack.
"I had migraines, my head was on fire, my back was on fire," she continues. "I went to every doctor, acupuncturist, and finally went to a psychologist. I said, 'I'm not depressed, I'm really happy, I have the love of my life, my career is great, my family is healthy. Nothing is wrong.'" He diagnosed her with panic disorder, a condition where her fight or flight responses were going on and off all day long without much control. "When a doctor tells you there's something wrong with your brain it's the scariest thing ever, so I went on anti-depressants and it saved my life."
When she became pregnant with Riley, Trainor was able to find a doctor who acknowledged her mental health as part of the overall pregnancy - a doctor who believes that, "a happy mom is a happy baby." And Trainor is certainly happy, sharing that motherhood is the "greatest thing ever" and that she finally feels "like my happiest, best self." Now, she wants to pay that happiness forward, and for others to know how "anti-depressants saved [her] life." After seeing Carson Daly talk about his panic attacks on "The Today Show," Trainor has been more vocal about her experience. "If you're out there and you're like me, just begging for help, and lost and scared, there is hope I promise. As long as you find someone and tell someone."