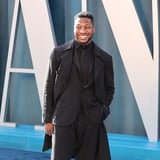 Jonathan Majors is busy - and that's how he likes it. With a résumé boasting an impressive mix of mainstay Marvel blockbusters and moody, arthouse projects like "The Last Black Man in San Francisco" and HBO's Black horror series "Lovecraft Country" (which secured Majors an Emmy nomination), the 33-year-old actor is quickly becoming known for his commitment to his roles.
In an interview with Men's Health, Majors said his stunts, training, and physique are all real - and so are the weights he uses on set. This is more impressive when you consider that in his upcoming roles in Rocky Cinematic Universe's "Creed III" and the dark drama "Magazine Dreams," Majors plays a boxer (Dame) and bodybuilder, respectively, which are physically intense roles. But he reasons that if he puts in the work to meet the demands of a role, he won't skimp out when it's time to film.
"I will do this all day. We are not putting fake weights on. I haven't been training for the past three months to get here and use Styrofoam," Majors told Men's Health. "Put these f*cking weights on so we can lift it, so you can shoot it, so I can tell the story." Otherwise, to Majors, it's "like putting fake tears in your eyes. Or putting fake sweat on you."
This sort of commitment to not just acting but also experiencing the physical demands of his roles translates into how Major builds his body, and it provides greater insight into how a character's personality would translate into their world, struggles, and history.
"There are certain reasons you build your body," he said, then referenced "Creed III." "Dame's body was built from loss. He had lost something, and that hole is what made him work the way he worked. When you see Dame's body, you go, Oh, that makes sense. You don't look like that and be happy with life."
Meanwhile, for his role as Killian in "Magazine Dreams," Majors says pain and anger are what transformed the character's body. "That's a pain body. A lot of guys build their bodies by anger, which is a secondary emotion," Majors said. "And those bodies don't look right. Those bodies don't engender emotion."
Despite his commitment to authenticity, Majors seems to know his limits. With any physical transformation - especially for such rigorous, athletic roles - there's always the risk of injury. But when discussing his upcoming role as Marvel supervillain Kang the Conqueror, Majors said, "No one should put themselves or their families in a place where they're hurting, but your own discomfort is not necessarily a bad thing. That's growth. It's not comfortable, but you're here to save the world, aren't you? Or take over the world."