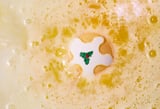 Lush Cosmetics just dropped its 2022 holiday collection.
The brand brought back a selection of fan favorites in addition to new formulas and scents.
Take a look at a few of our favorite pieces from the collection.
With summer coming to a close, it only makes sense that you start putting together your holiday playlist and looking for festive nail art to try this winter. While you're wading through renditions of classics and planning your makeup looks, add to the cozy vibes by plotting the Lush holiday scents and body-care products you plan to stock up on.
Starting today, Sept. 21, you will be able to shop Lush's 2022 holiday collection online at LushUSA.com, with the line expected to hit stores on Sept. 28. This year's lineup includes over 50 products in classic seasonal scents like the beloved Snow Fairy, as well as new introductions like the Elf Shake Body Gel. With so many products to choose from, this line is guaranteed to have something for everyone - the lovers of leisurely baths, quick shower-takers, and everyone in between. Plus, with prices ranging from $3 to $150, we wouldn't blame you for getting ahead on your holiday shopping list and snagging a few of these items as gifts.
If you are ready to dive right into the collection, we got an exclusive sneak peek at the products to help you shop with ease. Read ahead to see Lush's Holiday 2022 collection.