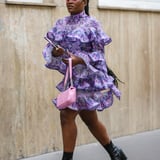 "Illusion ombré" nail art is trending on social media.
The technique involves layering two different complementary colors.
Here's what to know about the look and how to achieve illusion ombré nails at home.
Social media can be the perfect place to discover nail-art inspiration, and the latest maximalist manicure trend, dubbed "illusion ombré" nails, is guaranteed to turn heads. On TikTok alone, the hashtag #illusionombre has over 20.7 million views and counting, mostly in part because of a video created by user Kachy Nails, who was the first to showcase the newly popular look.
The nail-art technique typically features two layers of gradient nail art with the bottom layer visible under the top. The end result is similar to the shadow french manicure, but the optical illusion is on the entire nail rather than just the tip.
Although re-creating the look sounds complicated, it's actually much easier than you'd think. To start, you'll want to grab two gel nail polish colors that complement one another. "Colors that you normally would use for an ombré nail would go well together," Brittney Boyce, celebrity nail artist and founder of Nails of LA, tells POPSUGAR. "While two dark shades like black and blue can look cool, I think the effects are more dramatic when you use one light and one dark shade."
Then, following the steps showcased in the Kachy Nails video on TikTok, start by applying two complementing colors side by side on your nail. To get an ombré effect, blend the two colors lightly so they look as though they melt into one another, and then cure under a UV lamp. The next step is to apply the same two colors to the nail, but this time on opposite sides and without curing. Then you'll want to take a clean, flat brush and drag it across the nail from one end to the other in one stroke to create a smile line. This will give the nail the illusion artwork that gives this trend its name. You can stop there or add another line. When you're satisfied with the final look, cure the nail.
One thing to note is that although it might be tempting to test out the trend using regular nail-polish colors vs. gel, Boyce says she wouldn't recommend it. "This look is unfortunately very difficult to create using regular lacquer. It is doable, but it will be much more difficult."
If you are not confident you can re-create the look at home on your own and instead want to visit your local nail salon, make sure you arrive with inspiration photos and videos in hand. Below, we've rounded up different iterations of illusion ombré nails you can bring with you to your next appointment.
Illusion-Ombré Nails: Inspiration Photos