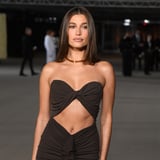 Image Source: Getty/Steve Granitz / Contributor
Hailey Bieber is more than ready for Halloween. After revealing a full face and body paint of Fankenstein-green with friend Kylie Jenner a few days ago, the model and beauty entrepreneur is back with yet another spooky season-themed look.
In an Instagram picture posted on Oct. 16, Bieber seemed to have traded in her signature brunette hair for a bright, cherry red color. Captioning the photo, "🦇👻👻👻👻 having a lil too much fun," she could also be seen in a glossy red lip, matching blush, and black-glam nails.
While the hair color is most likely a wig - Bieber posted a picture attending the 2nd Annual Academy Museum Gala with her brown hair back on full display - red hair has definitely been having a moment recently. Other stars like Shay Mitchell, Cara Delevingne, and Karol G have also debuted the color this year. While theirs may have been permanent, we wouldn't be surprised to see a few more redheads than usual as we get closer to the holidays.
If you want to join in on the fun, there are a few tricks to finding your perfect red hair shade. For fair skin, "coppers really work well," celebrity hairstylist Kiyah Wright, previously told POPSUGAR. It may also be helpful to picture celebrities that have similar skin tones as you. For example, Wright also mentions that "bright cherry reds, coppers, violets, and ruby tones" are fantastic for deeper skin. However, Rihanna's red era looked different from SZA's red era, so find someone who most resembles you in terms of skin tone and narrow your options from there.
See Bieber's red hair color ahead.