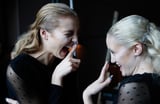 "Coffin" nails feature an oval shape with square tips.
The trend is extremely easy to re-create at home and, as a result, is growing in popularity.
Coffin nails look flattering on fingers of all shapes and sizes thanks to its tapered tips.
If you want a bold manicure but the stiletto nail shape is just a little too extra for you, then you can consider coffin nails a perfect compromise. The style, which looks like an oval mani with square tips, has won over plenty of fans due to its versatility and simplicity to re-create.
Perhaps this particular nail shape sounds familiar to you but by another name. That's because the manicure can also be referred to as "ballerina" nails - in fact, that's what Miss Pop, an NYC-based nail artist, calls the design. Since the sides of the tip are rounded off, she says the finished look is "soft and chic, like a ballet slipper."
What's more, Miss Pop says that coffin nails flatter fingers of all shapes and sizes, since the style is tapered at the ends. This creates an effect that thins and elongates your hands. Although coffin nails may look high-maintenance (and whether you need acrylic tips is solely dependent on your natural set) they are deceptively easy to maintain. According to Miss Pop, "Since the ballet shape does not file off the sides completely, like the stiletto [mani does], this nail does not break as easily."
Read on for Miss Pop's step-by-step tips on how to re-create this crazy-easy trend at home.