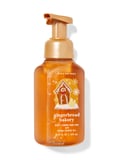 Bath & Body Works's 2022 holiday collection launches this month.
In addition to the classics, the brand launched 20 brand-new scents.
You can shop the entire collection of body-care products, candles, and home items online.
Even though it feels like yesterday that Bath & Body Works announced its Halloween collection, it's time to start thinking about the holiday season ahead. December will be here before we know it, and the brand wants to help you get in the festive spirit with a ton of new home fragrances, body-care products, and accessories.
It never ceases to amaze us how Bath & Body Works comes up with so many new fragrances each season, but it does it year after year. In this holiday drop, there are hundreds of products launching and brand-new, never-before-seen scents: After Dark, Applewood & Clove, Blackberry Bergamot, Cedar & Suede, Christmas Coconut Brittle, Dream Bright, Fa La La Latte, Gingerbread Bakery, Glistening Gumdrops, Iced Sugar Plum, Land of Snow, Merry Maple Bourbon, Moonlit Flurries, Rainbow Swirl Candy, Smoked Vanilla Whiskey, Snowy Coconut Frost, Sugar Plum Fairy, Twas the Night Before Christmas, Vanilla Icicles, and White Iris & Cedarwood.
All of those items, plus traditional yearly favorites like Vanilla Bean Noel and Winter Candy Apple, are hitting shelves in stores and online for you to enjoy. Additionally, the beloved Strawberry Snowflakes scent, which launched last year as a hand soap and was a sensational hit, is coming back in a full line of home and body-care items.
From cozy candles to delicious-smelling hand soaps, adorable hand sanitizers, and magical Wallflower Plugins, BathAndBodyWorks.com has been flooded with colors of red, white, green, and glitter and transformed into a winter wonderland. Even though the holidays are still a short time away, the brand's special-edition products always sell out fast. If you see something that would make the perfect gift for someone on your list (or yourself), we suggest grabbing it ASAP.
The entire Bath & Body Works Christmas collection launches online on Oct. 23 and in stores on Oct. 24, but you can get a peek at over 20 of the new items ahead. Don't forgot to sign up for Bath & Body Works's loyalty program to start collection points as you shop.