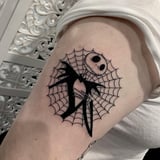 "The Nightmare Before Christmas" has been a beloved classic for years.
The film's stunning visuals and character design make for great "The Nightmare Before Christmas" tattoos.
From Jack Skellington tattoos to Oogie Boogie tattoos, these designs pay tribute to the iconic movie.
Even nearly 30 years after its original premiere, "The Nightmare Before Christmas" never gets old. For the uninitiated, the dark fantasy film by Tim Burton centers on Jack Skellington, the king of Halloweentown, who one day stumbles across a parallel town dedicated to Christmas. He quickly becomes so enamored with the holiday that he tries to get the residents of his hometown to celebrate it for the first time ever.
The movie itself is filled with odd artwork and set designs and a cast of characters so unusual that it's no wonder people are still obsessed with it - and use it as inspiration for a piece of body art. Yes, many have opted for "The Nightmare Before Christmas"-inspired tattoos, and even though the debate still stands on whether it's more of a Halloween or a Christmas movie, they're wildly popular among superfans. Artwork of the beloved characters, like Jack Skellington and Sally, can have tremendous significance for fans who were impacted by the movie, but they also make for both cute and ominous designs.
Halloween is the perfect time to rewatch the classic and get some spooky Halloween ink done to go with it.
From large-scale portraits and "The Nightmare Before Christmas" tattoo sleeves to minimalist sketches of the film's supporting characters, read ahead to see a unique selection of tattoo ideas from the film.
- Additional reporting by Clara Amelia