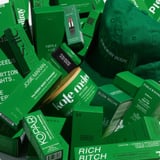 After the landmark Dobbs decision that overturned Roe v. Wade in America, if you've been feeling lost and confused about ways to help the cause of reproductive freedom in this country, there's now a really easy way to support. The Every Body Campaign is a partnership between 35 of your favorite bestselling beauty brands that have come together and are each selling a product with 100 percent of the proceeds (yes, you read that right, every single penny) going to The SisterSong Women of Color Reproductive Justice Collective. So basically, you get to shop your favorite products, the ones you were already looking to pick up, and every dollar you spend goes toward fighting for reproductive freedom. We're sold.
The SisterSong Women of Color Reproductive Justice Collective is an organization founded in 1997 and the "largest multi-ethnic reproductive justice collective in the nation." The collective's goal is to improve the reproductive lives of all marginalized communities, and it defines reproductive justice as "the human right to maintain personal bodily autonomy, have children, not have children, and parent the children we have in safe and sustainable communities." You can learn more about the collective here.
If that wasn't exciting enough, some of the products we can't get enough of are available to shop. We're loving the dew balm from Saie (an editor favorite), the hue stick from LiveTinted, the blush palette from Jouer Cosmetics, the moisturizing oil from Furtuna Skin, the body lotion from Nécessaire, and so much more. It's an incredible collection of products with an even more incredible mission behind it, so shop now while everything's still in stock!