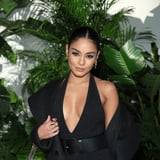 Image Source: Getty/Dimitrios Kambouris / Staff
Vanessa Hudgens is in her baby spice era. The actor posted a picture on Instagram and her chic pigtails could easily see her fitting in with the iconic girl group. Hudgens's hairstylist, Danielle Priano, parted her hair with precision down the middle and created two high pigtails on either side of her head. Then, giving the signature Spice Girl hairstyle a bit of a spin (quite literally), Priano twisted the pigtails around themselves and secured them at the end with an elastic.
Pigtails are just one of the many hairstyles from the '90s and early '00s making a comeback as Y2K beauty trends dominate popular culture. If you want to give Hudgens's hairstyle a try for yourself, up the nostalgia factor by adding other Y2K accessories like butterfly clips, barrettes, or scrunchies. If you want to take the look even further, pair it with other '90s beauty trends like the supermodel lip, face gems, or body glitter. The possibilities are limitless. Take a closer look at Hudgens's hair below.