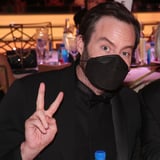 "Barry" star Bill Hader is trending on Twitter - not because of his Emmy nomination, but for being the only person at the Emmys on Monday night to wear a mask. While the protective accessory wasn't exactly glamorous, it certainly caught the attention of fans - especially those in the immunocompromised and disabled communities.

Your news feed may be filled with updates on the monkeypox virus, polio's resurgence, and the attack on reproductive rights, but the COVID-19 pandemic isn't over. There's still an average of 67,000 new cases daily in the United States (as of press time), according to the CDC. While many people have allowed their lives to return to "normal," for those who are immunocompromised, COVID still has a massive impact on day-to-day life. One Twitter user writes, "I tend to be the only one (or one of the very few) still wearing a mask while going out into public spaces, and this makes me feel so seen!" Disability activists took to Twitter to thank Hader for being an example of masking up - even if you feel like a "weirdo."
SOMEONE AT THE EMMYS PLEASE THANK BILL HADER ON BEHALF OF THE ENTIRE DISABLED COMMUNITY FOR WEARING A MASK AT THE EMMYS

- v ✨🦋 (@hereisviolet) September 13, 2022
Bill Hader is the only celebrity wearing a mask in a room full of high powered peer pressure.

Let this example help you next time you feel like the weirdo. Weird is good. pic.twitter.com/c1vGmdBYtY

- Dogs4Object Permanence🐶 (@BernieDogs4) September 13, 2022
In an interview for The Hollywood Reporter, Hader shared that he lives with an autoimmune condition, takes immune-suppressing medication, and barely left the house from March 2020 until he was fully vaccinated in spring 2021. The fact that Hader himself is also immunocompromised only bolstered the sense of representation for the community. He was lauded for not folding to peer pressure - especially because he has "crippling anxiety," per The Hollywood Reporter. Author Bev Katz Rosenbaum tweeted, "We stan a safe king resisting peer pressure in the year 2022!"
Another Twitter user pointed out that this year's Emmy ceremony is a "win for disabled people" in more ways than one. They went on to list examples such as the multiple ramps that were integrated into the stage, the presence of American Sign Language interpreters, and Selma Blair (who has multiple sclerosis) presenting the final award of the night - and receiving a standing ovation. "There's still a lot of work to do, but this is a start!"

Many credit filmmaker James LeBrecht for his disabled civil rights activism that led to this progress at award ceremonies. For the December issue of The Hollywood Reporter magazine, Blair and LeBrecht discussed the mental shift that still needs to happen in Hollywood to include the disabled. "One in four adults has a disability, but we're so underemployed in the industry and so under- and misrepresented on the screen. This is Hollywood's responsibility," he told The Hollywood Reporter. LeBrecht also joined the Twitter conversation around accessibility at the Emmy's, tweeting: "This has been a long time coming. Other awards ceremonies need to take note. THERE IS NO EXCUSE FOR INACCESSIBLE STAGES. The importance of seeing the ability to get on that stage sends a powerful message. If you see it, you can be it."
Hader was nominated for outstanding lead Actor and outstanding director for the comedy series "Barry," and although he didn't take home any awards, he's definitely a winner in our eyes.