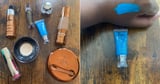 Danessa Myricks Beauty is an eponymous makeup line created by Danessa Myricks.
The line features color cosmetics and complexion products that encourage artistry in your daily makeup routine.
One editor tested the entire line to narrow down the products actually worth your money.
For makeup-lovers, Danessa Myricks Beauty probably needs no introduction. For the unfamiliar, the eponymous line was created by makeup artist Danessa Myricks in 2015, originally launching a collection of highlighters for people who love to glow as much as Myricks did.
Since then, the collection has expanded to include everything from foundation to eyeshadow toppers and even blush, all created with the intention to make people feel welcome in the beauty space while giving them the freedom of personal self-expression. "When creating Danessa Myricks Beauty, my brain just encapsulated that idea of feeling like an outsider, and I specifically wanted my brand to embrace everyone," Myricks previously told POPSUGAR. "I really wanted Danessa Myricks Beauty to feel like a big hug - like you are welcome here, whoever you are, however you're coming. We're going to show you how to have fun and be free with makeup."
With prices that range from $20 to $125 and so many products to choose from, it can feel overwhelming to figure out which ones are worth the investment. (Plus, while a few of the formulas are available at Sephora, quite a bit of the line are still only available on the brand's website.) So to help narrow down the search, we tested all the products from Danessa Myricks Beauty and found only the best of the best.
From innovative formulas to out-of-this-world color payoff and everything in between, read ahead for the Danessa Myricks Beauty products that are worth the buy.