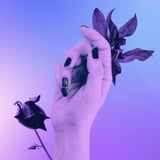 If Kravis's wedding hasn't inspired your own gothic glam revival, this trending nail look might. According to Pinterest's 2022 Wedding Trend Report, searches for "black glam" wedding nails have increased over 50 percent as brides search for nontraditional wedding dresses, decor, and nail colors. But what, exactly, are "black glam" nails?
"Black glam nails are essentially just different variations of black nails and nail art," celebrity manicurist Mar y Sol Inzerillo tells POPSUGAR. "High shine or matte, nail art or single color, it doesn't matter as long as they complement your look. One of my favorite variations does have to be 'crushed velvet' black glam nails, which can be paired perfectly with the grungy vibe of the most recent Prada collection, though."
As with the majority of beauty trends as of late, we can thank the return of Y2K beauty and fashion as well as a more recent pop culture event for the return of this nail aesthetic. "Overall, the '90s are back, and black nails were a huge trend back then," Inzerillo says. "But also, more recently, the beautiful goth energy from the Kravis wedding extravaganza definitely has influenced the popularity of this nail trend."
If you want to try the "black glam" nail look at home, Inzerillo recommends using polishes like Lights Lacquer Tuxedo Mask ($11) or Gel Bottle Jet Black ($19) as a base and then playing with gold or silver leaf to combine trends and give the manicure a black chrome effect. If you're feeling even more adventurous, incorporate trending nail-art designs like shadow french, baby french, or negative space looks for a black manicure with a creative twist.
If you need some more black nail inspiration, scroll through some of the best iterations of the trend ahead.