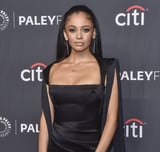 Vanessa Morgan has more than 10 known tattoos so far.
The actor got her first tattoo in 2016 and has been adding to her collection since.
She has ink for her son, her husband, her mom and sister, and more.
Tattoos often tell a story about the wearer, and that couldn't be more true for Vanessa Morgan and her collection of fine-line tattoos. The actor has at least 10 pieces of body art scattered across her body and added a new design as recently as July 2022 - all of which hold a deeper meaning to her. She has ink for her son, River; her husband; her mom; and even a matching design she got alongside one of her closest friends, Lili Reinhart.
"All of my tattoos have special meaning to me," Morgan tells POPSUGAR. Among a few of her favorites include the ink on her wrist of River's name, the moon and sun on the side of her wrist to "represent the phases of life," and her mom's initials on her ribcage. She also has two butterfly tattoos - one behind her ear and one hidden somewhere else - as a nod to her name, which means butterfly. "And I love the symbol of a caterpillar turning into a butterfly: rebirth," she says of the ink. "That's a big one for me, too."
The most recent tattoo Morgan got is of the word "Kintsugi" placed right next to her C-section scar from the birth of River in 2021. That one represents her son entering the world - a milestone event in Morgan's life. "Everything I put on my body, I know it's forever," Morgan says. "It's like art; each is a little chapter." To learn more about Morgan's tattoos and the meaning behind each one, keep scrolling.