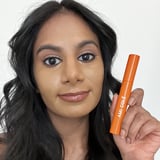 I was in the market for an everyday mascara that gives me just the right amount of length and volume for an effortless yet enhanced look. Most of the ones in my stash give me a glam, false-lash-like appearance that's a bit over the top for a daytime vibe. One of my friends and fellow POPSUGAR editor introduced me to Ami Colé, a clean beauty brand catering to those with melanin-rich skin. She raved about the brand's Lash Amplifying Mascara ($19) and convinced me to give it a chance. With just a few swipes, it was exactly what I was looking for, and I became an instant fan.
What I Like About the Ami Colé Lash Amplifying Mascara
The Ami Colé Lash Amplifying Mascara is the ultimate "my lashes but better" mascara. I love that the wand is long and thin; I can get near my lash line, lift at the root, and lengthen at the tip. The tapered shape of the brush helps reach areas like the inner and outer corners for a fanned-out look. With the densely packed bristles, I can coat every lash with the pigmented formula while separating them for a defined look. The formula is on the wetter end with a creamy consistency, which I appreciated since the subtle slip helped glide the wand easily, coating each hair without dragging or pulling my lashes. The mascara's jet-black shade also gave the appearance of thicker, fuller lashes.
After applying a few coats and shaping my lashes exactly the way I wanted them, I realized how weightless the formula felt. It truly feels like nothing is on my lashes. It was no surprise when I discovered that the Lash Amplifying Mascara contains conditioning ingredients like shea butter, jojoba esters, vitamin E, beeswax, and glycerin to soften and nourish each hair. The best part? The design of the wand and the flexible formulation make this mascara resistant to clumping. As I was layering and combing out each lash, I noticed how I didn't have to break up bigger clumps and spider lashes. It even has a long-lasting, day-to-night wear that doesn't flake or irritate my eyes.
What's Worth Noting About the Ami Colé Lash Amplifying Mascara
Although the Lash Amplifying Mascara has a buildable formula, this will not give you that falsies-like appearance. This mascara is one of my go-to picks for an everyday natural look. It's great for those looking to enhance their natural lashes and give them a little zhuzh and subtle drama rather than something more glam.
The mascara wand also picks up a good amount of the formula from the tube. If you like to apply your mascara a little bit at a time and assess accordingly, it's best to swipe the excess off. That way, you'll have better control as well. This mascara can hold a curl, but it doesn't give you a curl. It's best to use your lash curler beforehand and then apply the mascara.
Who Is the Ami Colé Lash Amplifying Mascara Best For?
The Lash Amplifying Mascara does exactly as it says, amplifying your lashes for a lifted and voluminous appearance. It gives your eyes a fresh, awakened look as well. It's perfect for anyone who wants something ideal for an everyday look, whether you are feeling the "clean girl" trend, prefer soft glam, or fall somewhere in between. At $19, the Lash Amplifying Mascara is on the more affordable side, considering other higher-end mascaras, which is a big plus. If you're in the market for a quality, everyday mascara that is clean and conditions your lashes, this is a budget-friendly pick.
Where Is the Ami Colé Lash Amplifying Mascara Available?
The Ami Colé Lash Amplifying Mascara is available on Thirteen Lune and Goop ($19).
Rating