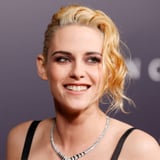 Kristen Stewart's days as a blond, Princess Diana look-alike are no more. In a subtle reveal photo posted by Stewart's fiancée, Dylan Meyer, on Aug. 25, the "Spencer" star revealed her new brunette hair transformation. "Accidental Party on, Wayne," Meyer captioned the photo, poking fun at her and Stewart's resemblance to Wayne (Mike Myers) and Garth (Dana Carvey) from "Wayne's World." In addition to darkening her hair color, Stewart also swapped out her blond waves for a shaggy mullet with asymmetrical micro bangs, an edgy look infused with '90s nostalgia.
While most of Stewart's new hairstyle is covered up by a baseball cap in the photo, the new chop is clearly a major leap from the beachy waves she's been wearing down the red carpet the last several months. During her blond days, Stewart wasn't shy about letting her roots shine through and incorporating them into the hairstyle for a breezy ombré look. But her natural hair color hasn't been on full display for years, making the transition back to dark brown even more exciting.
Stewart may not be blond anymore, but her fiancée is, which means the couple might not have to work too hard on their next Halloween costume. "Is your new nickname Garth?!" Seth Rogen commented on the couple's photo, referring to Meyer's icy-blond waves.
As the "Crimes of the Future" star continues to walk the red carpet in eye-catching Chanel styles, we can't wait to see what new looks her hairstyle will inspire. In the meantime, see Stewart embrace her inner brunette with her new mullet here.