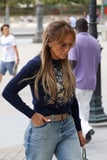 The half-up, half-down hairstyle is a staple for many reasons.
Not only is it easy to execute, but a half-up updo can also lean casual or elegant.
A celebrity hairstylist breaks down how to pull off the look according to your features.
From the red carpet to your Instagram feed to your TikTok FYP, half-up, half-down hairstyles are more popular than ever. The nostalgic hairstyle, which you might recall wearing to school as a tween, is having a major resurgence. Recent fans include Beyoncé, Zendaya, Bella Hadid, Khloé Kardashian, and Jennifer Lopez, who has definitely made the look one of her signatures.
Celebrity hairstylist Justine Marjan, who has created the in-demand hairstyle on Kardashian, Olivia Culpo, Ashley Graham, and other stars, told POPSUGAR she likes the vibe it gives off. "Half up feels young and playful," she says. "It allows for the hair to stay out of the face without being completely up, which can sometimes feel too harsh."
At a press event for TRESemmé, where Marjan is a global stylist, I got to be in her chair to recreate the look. After giving me her signature loose waves, she started pulling my hair halfway up. I was caught off guard when, instead of starting behind my ears as you'd expect, she strategically started by my temples. It suited my round face shape better, Marjan explained. That's when a lightbulb went off in my head: does where you start your half updo on your head make a difference? How do you know which placement looks most flattering on you?
Thankfully, Marjan had all the answers. Ahead, read her biggest tips on how to pull off the popular half-up, half-down hairstyle based on your individual features.