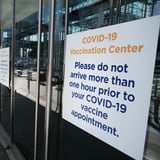 Omicron may seem like old news, but it's as relevant as ever. COVID-19 cases are rising, hospitalizations have doubled since April, and the very contagious omicron substrain BA.5 is the new majority variant in the US. As a result, the White House COVID-19 Response Team is urging the public to get their booster doses now, if they haven't already, rather than waiting for a new variant-specific booster shot that might become available in the fall.
Pharmaceutical companies are working to manufacture new booster shots targeting subvariants BA.4 and BA.5 after the FDA advisory committee voted on June 27 to recommend an omicron-specific update to COVID-19 booster vaccines. While the FDA and the CDC still need to confirm, the data so far suggests that if you get a booster now, you will still be eligible to get a variant-specific vaccine this coming fall or winter, White House COVID-19 response coordinator Ashish Jha said during a White House Briefing on Tuesday.
"There are many people who are at high risk right now. And waiting until October, November for their boost . . . is not a good plan," Rochelle Walensky, director of the Centers for Disease Control and Prevention, said during the briefing. "And so we really do want to say now get your boost. We have every anticipation that the data will suggest that you will be eligible for a boost in the fall."
As of right now, boosters are available to everyone ages 5 years and older. The CDC also recommends two booster doses for people over 50 years old and people 12 years or older who are immunocompromised. The White House is considering expanding eligibility for second booster shots to all adults in light of the current rise in cases, according to The Washington Post.
As of June 29, adults who are up to date with their vaccinations are 3.5 times less likely to be hospitalized than unvaccinated adults, and among those who are 50 and older, people who have received two booster shots are 42 times less likely to die from COVID-19 compared to those who are unvaccinated, according to the Washington State Department of Health.
Who Is Eligible For a COVID-19 Booster Shot?
As of June 30, the CDC recommended that adults who are moderately to severely immunocompromised should receive a booster shot at least 28 days after their second dose of either the Pfizer or Moderna vaccines. For adults ages 50 years and older and some people ages 12 years and older who are moderately or severely immunocompromised, the CDC recommends receiving a second booster dose. You may also be eligible for Evusheld, a medicine given by your healthcare provider to help prevent you from getting COVID-19.

For anyone who is not deemed high-risk and who is age 6 months and older, the CDC recommends a COVID-19 primary series vaccine, plus one booster for everyone age 5 years and older. If you got the Pfizer or Moderna vaccine, you should wait at least five months from when you were fully vaccinated to receive your booster.
Johnson & Johnson's Janssen (J&J/Janssen) COVID-19 vaccine cannot be used as a second booster dose. The FDA officially approved "mix-and-match" COVID-19 boosters so that people can get booster shots that differ from the vaccine they received originally.
To figure out when you should receive the booster shot, you can use CDC's COVID-19 booster tool.
- Additional reporting by Maggie Ryan and Melanie Whyte