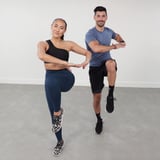 Join the founders of LIT Method, Justin and Taylor Norris, for a 10-minute butt and thigh workout that will have you feeling strong and balanced. This no-equipment routine is perfect for all levels and can be done anytime, anywhere. In this routine, you'll work on side lunges, side steps, sumo squats, lateral shuffles, kneeling rear-leg raises, and so much more. Get ready to feel your booty and thighs burn throughout this short yet effective workout. Although this is a no-equipment routine, feel free to add a pair of ankle weights for an added challenge!
Taylor's pants: Carbon38
Justin's shorts: Alo
Justin's shirt: Lululemon
Find more from LIT Method on its website.