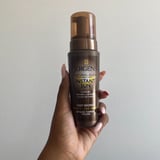 Black people on TikTok are sharing their experiences with self-tanning.
As a result, the Jergens Natural Glow Instant Sun Mousse went viral for showing up nicely on dark skin tones.
One editor put the trending mousse to the test and loved the results.
To be honest, self-tanning was never on my beauty ritual radar growing up. Whether that's because I grew up in the Caribbean and always looked "tan," or it was just something I didn't see Black people doing, I was just never interested in the process. That all changed when I saw the Jergens Natural Glow Instant Sun Mousse ($14) going viral on TikTok thanks to user Kahlia Zaire.
In her video, Zaire can be seen applying the mousse and coming back the next day looking bronzed and glowy - as if she just came directly from the beach. Because glowy is always my goal, I had to try this affordable self-tanner for myself.
I got the mousse in deep bronze as well as the accompanying mitt to make the application as mess-free as possible. Before getting started, I used the Kate Somerville Exfolikate Resurfacing Body Scrub ($56) all over my body, focusing particularly on rougher areas like my elbows and knees. Once I was out of the shower and dry, I skipped the moisturizer and went straight to application. I sprayed about two pumps of the mousse into the mitt and applied the foam in circular motions, starting with my upper things and working my way down my legs to my feet, repeating the process with my arms and chest.
I did notice there was a slight tacky feeling immediately after application, so I waited until the coat dried (which just took a few minutes) before hopping in bed to prevent any possible transfer. The next day, about 14 hours later, my tan developed beautifully and I looked bronzed in every sense of the word. My tan was even and left the most beautiful glow to my skin.
Many people with deeper skin tones say that self-tanning can help cover dark marks or body acne scars, but that wasn't the case for me; I still noticed dark marks on my shoulder. So if you're looking for blurring or coverage, I'd recommend applying the mousse multiple times over the course of a few days to build up the tan.
Still, I am definitely a newly converted self-tanning fan and I can't wait to try out different methods like the "tantour hack" that also went viral on the app. If you have darker skin and are on the fence about trying self-tan for the first time, I wholeheartedly think you should give it a try.
Rating: