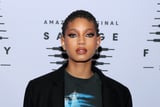 Willow Smith has several tattoos all over her body.
She's spoken about the meaning behind some of her tattoos and documented the process behind one of them.
Her ink includes a Hindu goddess and matching flowers with her mom and grandma.
Willow Smith is a free spirit just like her parents, and she's got the tattoos to prove it. The "Wait a Minute" singer may only be 21 years old, but she's collected several pieces of ink in a short amount of time. She's already built a sleeve on one of her arms and even got her mom, Jada Pinkett Smith, to do the same.
Smith has gotten some pretty awesome artwork since she started her tattoo journey, and many of the pieces are very meaningful to her, like the matching design she got with her mom and grandma. Having grown up in the spotlight and worked as a musician for years, some of Smith's tattoos are symbolic of her journey thus far.
Want to learn more about Smith's tattoo collection and the meaning behind each piece of ink? Read on, and try to resist the urge to run to your nearest tattoo parlor.