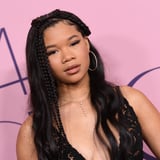 Image Source: Getty / VALERIE MACON / AFP
Storm Reid is celebrating her 19th birthday with a seriously cool summer manicure. On July 1, the "Euphoria" actor linked up with her go-to nail artist Vanny Nguyen for an elevated french manicure. Reid's nails have a badass chrome shimmer on top of a green french design. The color - which happens to be super popular for summer - paired with the almond shape of her nails just screams birthday nails. "Do you see this? Van snapped! It's my birthday, she did my birthday nails. It's giving rich, it's giving money, it's giving everything. They look so good!" Reid said on Nguyen's Instagram Story.
Reid is no stranger to experimenting with fun nail designs. One of our favorites of hers was a crocodile french manicure from May, courtesy of Nguyen, of course. It seems there is no limit to the types of french manicures taking over our feeds this summer. The split french manicure trend uses two colors for the lines on the tip of the nails, and the baby french manicure uses a thinner line on the tip of the nails, making it ideal for shorter nails. The possibilities! Check out Reid's green chrome french manicure below.
Image Source: Instagram user vanny_nguyen