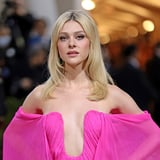 Image Source: Getty/Dimitrios Kambouris
Nicola Peltz-Beckham is known for her enviable long, blond hair, but the model has officially moved over to the dark side this weekend by dyeing her hair brunette.
Showcasing her new look on Instagram on July 23, Peltz-Beckham captioned her photo "back to my roots" while unveiling her ultra-cool shag haircut. This is the first time she's gone au natural since 2012 when she starred as Katara in "The Last Airbender," so it's a big change. The warm brown color undoubtedly makes her green eyes pop, and fans were quick to tell her how amazing she looks.
Fans love it, we love it, and so does her husband, Brooklyn Peltz-Beckham. He compliment his wife's new hair, telling her she looks sexy in the comments section and also shared the photo on his Instagram Stories, saying: "WOWWWWW 😍@nicolaannepeltzbeckham".
The newlyweds have most recently been on their honeymoon in the South of France, posting a series of snaps on social media. The couple tied the knot on April 9, 2022, at Peltz's family's home in Palm Beach, FL. She wore a Custom Valentino Couture wedding dress that stole the show, but her wedding beauty look was just as stunning. Underneath her veil, Peltz-Beckham's blond hair was styled in a subtle bouffant with a sweeping fringe gently framing her face. The look was inspired by '90s supermodel Claudia Schiffer, and her hairstylist Adir Abergel absolutely understood the assignment.
While we love Peltz-Beckham as a blond, we appreciate the change-up. Perhaps her new brown hair color marks the next phase in her married life?