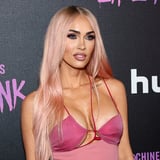 Image Source: Getty/Arturo Holmes
If you don't want to cut too much length off your hair this summer, Megan Fox has the perfect solution. The actor recently switched up her hairstyle ever so slightly by getting a haircut "dusting" and a bombshell blowout from celebrity hairstylist Dimitris Giannetos.
In an Instagram post shared on July 1, Giannetos captioned a picture of Fox's new hairstyle, "Short-ER and bouncy for stunning #MEGANFOX." Though it's still relatively long, Fox's new haircut hits at midchest length, whereas her hair usually reaches down to her midback. This is likely thanks to the "dusting" Giannetos gave Fox's ends. For those who aren't familiar, hair dusting involves removing only a very small amount of hair to get rid of split ends while maintaining length.
This hair change comes just after Fox debuted pastel-pink hair to match fiancé Machine Gun Kelly for the premiere of his Hulu documentary "Life in Pink." This latest style, however, sees Fox returning to her signature dark hair color, and instead of her usual middle part, she's wearing a deep side part, which adds to the glamour of the bombshell waves.
Take a look at Fox's new hairstyle ahead.