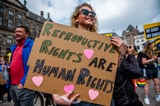 On June 24, the Supreme Court compromised the safety and privacy of millions of people across the US when it ruled to overturn Roe v. Wade, the landmark 1973 case that established a pregnant person's freedom to choose to have an abortion. At least eight states immediately eliminated access to the procedure, reports The Washington Post, with more expected to follow. As a result, many people in need of abortion care - most commonly low-income women in their late 20s who already have children - will be forced to travel hundreds of miles, and sometimes even upwards of 1,000 miles, if they're able to get it at all.
The Roe decision and the swift, devastating loss of abortion access that followed left millions of people across the US feeling hopeless and furious. Many of those people wanted to channel their anger into action - they protested the decision, donated money to abortion funds, shared their own abortion stories. Others were left wondering if there was some way they could provide more tangible support. In fact, some online advocates for abortion care even began offering their homes to those seeking abortions in safe-haven states via social media platforms like Facebook and Reddit. While mostly well-intentioned, soon enough, people were warning against reaching out to these so-called "auntie networks", noting that they leave the door open for ill-intentioned people to harm or blackmail people seeking abortions when they're at their most vulnerable.
"We connect with people specifically so we can make sure to find best practices for safety, for vetting, for making sure that we connect our callers to people that we trust."
That said, there is a way to provide on-the-ground support to people seeking abortion care in the US at a time when access has never been more restricted. Rather than rely on the kindness of strangers and put yourself or others in a compromising position, however, Alison Dreith, the director of strategic partnerships at the Midwest Access Coalition, suggests taking advantage of online resources like MAC and Access Reproductive Justice to track down nationwide abortion funds and independent clinics that provide abortion access and practical support care.
Practical support care refers to the logistical support agencies can offer to people who are trying to get reproductive healthcare. It may include gas money and childcare for someone who has to travel to get an abortion, or emergency contraceptives for someone who is trying to avoid a pregnancy. And the agencies that provide it often need help.
"If you want to actually support people getting care, you don't have to reinvent the wheel," Hanz Dismer, education and research coordinator for Hope Clinic For Women, tells POPSUGAR. Dreith points out that trying to act alone, without the proper training and knowledge, can lead to legal repercussions and sometimes death threats from anti-choice groups. "There are agencies that have been doing this for decades that know what they're doing, that know the needs of the patient population that they're serving, and they're able to provide guidance and experience," Dismer says.
"Something about working with an abortion fund or a practical support network [vs. an auntie network] is that we are already vetted and we're connected to a national network of abortion funds and a practical support network across the country," ARJ Engagement Coordinator Tricia Gray adds. "We're not the only people doing this work, and we connect with people specifically so we can make sure to find best practices for safety, for vetting, for making sure that we connect our callers to people that we trust."
So, while Gray emphasizes that donating to reproductive care clinics and voting for initiatives that protect reproductive care are necessary, crucial forms of advocacy, those looking to take a more active role in supporting people in need of reproductive care could consider practical support volunteering, to help to provide the kind of on-the-ground logistical support so many people seeking abortion need - especially now.
Ahead, familiarize yourself with some of the nationally recognized reproductive care networks and learn more from abortion fund experts about how to safely become a practical support volunteer.