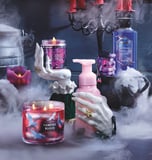 Bath & Body Works gave us a peek at its treat-filled, highly-anticipated Halloween collection. Just like last year, the 40-plus-piece collection is filled with spooky candles, lotions, hand soaps, accessories, and more.
Available in stores and online on July 18, the Bath & Body Works 2022 Halloween collection is gearing up to be the brand's best yet. Four fan-favorite returning scents - Vampire Blood, Ghoul Friend, Pumpkin Carving, and Spooky Cider Lane - will be joined by two all-new fragrances called Enchanted Candy Potion and Stardust Magic.
Enchanted Candy Potion smells of berries, sugar, and "pixie dust" and is available in three-wick candles, hand soap, hand sanitizer, and room sprays. Stardust Magic, on the other hand, smells like caramel, vanilla, and musk and is available only in hand soaps.
And that's just the beginning. There's plenty of wicked decor and accessories to shop, like an iridescent skull candle holder, haunted house-themed wall plug-ins, spider-embellished soap holders, and more. Not to mention, Bath & Body Works is bringing back the viral witch hand candle holder that was everywhere last year.
Get a look at the Bath & Body Works Halloween collection ahead.