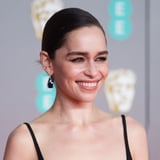 Emilia Clarke, best known for playing Daenerys Targaryen in "Game of Thrones," has opened up about two terrifying brain aneurysms she suffered while filming the show.
The 35-year-old told listeners of BBC One's "Sunday Morning" on July 17: "The amount of my brain that is no longer usable - it's remarkable that I am able to speak, sometimes articulately, and live my life completely normally with absolutely no repercussions. I am in the really, really, really small minority of people that can survive that."
The actor has previously spoken about her health concerns, and she launched her own charity to support those with brain injuries and their loved ones through recovery in 2019. The actor raised over £200,000 (just under $240,000) for the charity - which is called SameYou - in a live stream with Irish YouTuber Jacksepticeye in 2019 and raised hundreds of thousands more at other fundraisers.
In her recent interview, she said: "There's quite a bit [of brain] missing! Which always makes me laugh. Because strokes, basically, as soon as any part of your brain doesn't get blood for a second, it's gone. And so the blood finds a different route to get around, but then whatever bit is missing is therefore gone."
"[I]t's remarkable that I am able to speak, sometimes articulately, and live my life completely normally with absolutely no repercussions."
Clarke's battle with brain injury started in 2011. After the filming of "Game of Thrones" season one, the British star suffered a subarachnoid hemorrhage, a life-threatening type of stroke brought on by bleeding around the brain. The then-24-year-old underwent brain surgery and suffered from a frightening bout of aphasia (difficulty with language or speech) and couldn't even recall her own name for about a week. Fortunately, she recovered and was able to return to work as normal.
However, her health concerns returned. After two more seasons of filming for the hit HBO show, Clarke returned to the hospital to address another aneurysm; she underwent surgery on a growing lump on her brain. Since then, the award-winning actress has suffered from paralyzing headaches.
Traumatizing injuries aside, Clarke has gone on to receive a number of impressive accolades. The Londoner has been awarded an Empire Award, a Saturn Award, four Primetime Emmy Awards, and seven Screen Actors Guild Awards, and she was named one of the 100 most influential people in the world by Time magazine in 2019.
Despite the scary incidents, Clarke's acting career has continued to flourish over the past decade. She might not be appearing in HBO's new "House of the Dragon" series, but she has upped her acting credits in a number of successful films, such as "Me Before You," "Solo: A Star Wars Story," and "Last Christmas." Her career has gone from strength to strength, and we hope her health continues to follow this trajectory.