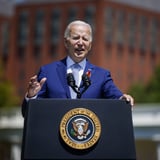 Following President Joe Biden's executive order on abortion rights on July 8, he is now considering declaring a public health emergency in an effort to free up federal resources to promote access to abortion. But what does it really mean if Biden goes through with it?
Jen Klein, the director of the White House Gender Policy Council, told reporters that declaring a public health emergency "didn't seem like a great option," according to CBS News. But Biden has asked officials "to look at whether I have the authority to do that and what impact that would have."
Below is a rundown of what declaring a public health emergency could mean for the fight for reproductive rights.
What is a Public Health Emergency?
Historically, a public health emergency (PHE) is declared in reaction to an outbreak of infectious disease or a bio-terrorist attack, according to the US Department of Health & Human Services. Once declared, PHEs give the Department of Health and Human Services the extra funding necessary to respond to the crisis that's occurring.
How Could Declaring a Public Health Emergency Make an Impact?
Once a PHE is declared, the administration can access emergency funds allocated toward the immediate needs of the crisis, including the Public Health Emergency Fund. Outside of funding, section of 319 of the Public Health Service Act does limits liability of certain health care professionals - but only to the extent permitted under the laws of the state in which care is provided.
If a PHE is declared, particularly under the Public Readiness and Emergency Preparedness (Prep) Act, "it empowers HHS secretary to issue a declaration that would shield providers, pharmacists, patients and others from liability for their involvement in providing medication abortion in hostile states," per a Washington Post article written by Nancy Northup, president of the Center for Reproductive Rights. This means that medication abortion would still be provided to those who are pregnant in states where abortion is banned.
So why hasn't Biden already declared a PHE for abortion access? The administration reportedly considered doing so immediately after Roe v. Wade was overturned, but "set aside the idea due to concerns the impact wouldn't justify an inevitable legal battle," per Bloomberg. Klein stated in a press briefing that there's very little money - tens of thousands of dollars in the PHE Fund, and declaring a PHE "also doesn't release a significant amount of legal authority. And so that's why we haven't taken that action yet."
Has This Been Done Before?
Similar efforts were made to address prejudice head-on in the summer of 2020. In July of that year employees at CDC penned a letter to the federal agency to declare racism a public health crisis. And in response to the protests following George Floyd's murder, the American Public Health Association (APHA) released an analysis on declarations of racism as a Public Health Crisis.
While declaring a public health crisis does not guarantee access to emergency funding like the kind provided by a PHE, the gesture can still make an impact, according to APHA. "While resolutions and formal statements themselves are not necessarily legally enforceable, they are an important first step," APHA said. "Shifting the narrative in a way that can drive changes to policies, laws and resource allocation."
What Else Has the Biden Administration Done to Defend Reproductive Rights?
Biden signed an executive order to protect access to reproductive health care services, but the order doesn't stop the 50 states from setting their own abortion policies. It does however ask the secretary of Health and Human Services to submit a report to the president with plans to protect medication abortion, ensure emergency medical care, and protect access to contraception, among other things. The Attorney General and White House Counsel have also been asked to work with "private pro bono attorneys, bar associations, and public interest organizations to encourage robust legal representation of patients, providers, and third parties lawfully seeking or offering reproductive health care services throughout the country." The order also calls upon the Federal Trade Commission to look into data privacy for those seeking info about reproductive health care services.
Biden declaring a Public Health Emergency would further highlight that the recent overturn of Roe v. Wade is an attack on the health and wellbeing of more than half of US population - especially those in low-income, rural, and other underserved communities.
In a statement in the Briefing Room on July 8, he closed with, "To protect and defend reproductive rights... is essential to justice, equality, and our health, safety, and progress as a Nation."