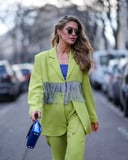 The best fall hairstyle trends borrow from past decades.
From '90s blowouts to retro, fluffy curls and sleek updos, you'll find your new style.
Two hairstylists are sharing what to expect this fall.
All of the unpredictability we've faced over the last few years has made us pretty creative - this fall is all about using that in your favor. Especially when it comes to your hairstyles, experimentation is key. The last few years brought unprecedented situations that led to so many DIY looks. Because of this, many of us have gotten comfortable playing with texture and even venturing back to different decades with our hairstyles. Think: the '70s, '90s, and even early 2000s.
The latest hair trends make old classics new again. They're intentionally effortless, fun, and bold. From the born-again '90s blowout to uberflattering updos, two top hairstylists are breaking down four of the best hairstyle trends for fall to keep on your radar. Keep reading to see what to expect.