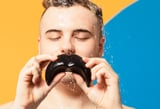 Lush Cosmetics's 2022 Father's Day collection is here.
Stock up on bath and body-care products for dad.
The new collection features nine limited-edition items to shop.
Ah, Father's Day, the time of year when you remember how notoriously hard buying for your dad is. Well, this year you can put those beer-making kits and pairs of socks to one side in favor of a pamper - all thanks to Lush Cosmetics's Father's Day collection.
For 2022, Lush has gone all out to create some seriously entertaining bath and shower products with the father figure in your life in mind. This year, the collection consists of nine limited-edition items, with some returning favorites and other brand-new products. Our must-haves include an adorable trophy-shaped No. 1 Dad Bubble Bar, a statement-making Big Moustache Soap, and a hilarious Superdad Eye Mask. Plus, Lush has a couple of thoughtful gift sets on offer if you can't decide which individual product to go for.
Lush maintains its commitment to sustainability with various initiatives across stores. Instead of using traditional wrapping paper to wrap your dad's gifts, why not try Lush's Knot Wrap? The wraps come in a wide variety of designs (with two limited-edition designs for Father's Day, too) and can be reused. Once your Knot Wrap is in need of a refresh, you can go into your local store and return your preloved wrap to get 50 percent off a new one of the same size.
Get a closer look at each of the products ahead that your dad will no doubt adore come June 19. And if you don't celebrate the day, at least there are a bunch of super-fun bath bombs to pick up.