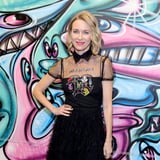 Image Source: Getty / Theo Wargo
Naomi Watts is tired of the silence. On Wednesday, the actor spoke on Instagram about her experience with menopause and its surrounding stigma. When she started menopause in her late 30s, she said, it "felt like a head-on collision with a Mack truck." (Menopause, which refers to the time when a person's menstrual cycles stop, typically occurs in one's 40s or 50s.) While Watts had every intention of potentially creating a family, she felt like she had no one to turn to and quickly discovered an alarming lack of resources - even from her doctors. "How could I figure this out when no one was talking?" she wrote.
"It's oddly like an unwritten code of silence."
No one really knew how to talk about something as taboo as menopause, Watts said. "My mentors and mum didn't seem up for discussing it, I didn't know how to ask for help and they didn't know how to provide.... even doctors had little to say," she wrote. "It's oddly like an unwritten code of silence: women should suck it up and cope, because that's how generations [past] have done it."
Watts revealed that she's working on a project to help change the conversation around menopause that "she's super proud of," promising to share more in the weeks to come. She is aiming to "conquer the stigma and address the secrecy and shame we've felt and help create a healthier foundation for future generations." That's something everyone can get behind, no matter their age: celebrities such as Elizabeth Banks, Julianne Moore, and Octavia Spencer all voiced their support in Watts's comments section, but that's hopefully just the start when it comes to destigmatizing topics surrounding women's health.