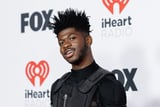 Lil Nas X is trying out a brand-new look. On June 12, he shared photos and a video of a major beauty transformation on Instagram and TikTok, debuting a style we've yet to see the musician rock: blond curls. It looked like the "Montero" singer dyed his hair for LA's Pride parade over the weekend, where he was seen holding a sign celebrating Marsha P. Johnson and enjoying performances.
In a TikTok video posted on Sunday, Lil Nas X poked fun at his resemblance to ramen noodles, sharing a silly step-by-step video of the "process" behind his new hair. Though he loves to take a risk and has experimented with countless styles, including an '80s-inspired mullet haircut and a variety of wigs, we've never seen the rapper with this bright blond hue. Considering everyone is going "Pamela Anderson blond" this summer, it's no surprise Lil Nas X got in on the latest trend.
Take a closer look at his blond hair color ahead.