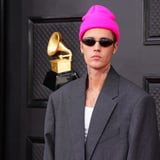 Image Source: Getty / Jeff Kravitz
Earlier this week, Justin Bieber announced that he'd be postponing his North American tour. Today, the "Yummy" singer revealed the reason. In an Instagram post, Bieber revealed he was recently diagnosed with Ramsay Hunt syndrome, a facial paralysis condition: "Hey everyone, Justin here, I wanted to update you guys on what's been going on. Obviously, as you can probably see from my face, I have this syndrome called Ramsay Hunt syndrome, and it is from this virus that attacks the nerve in my ear and my facial nerves and has caused my face to have paralysis," he said in the video. "As you can see, this eye is not blinking, I can't smile on this side of my face, this nostril will not move. So there's full paralysis on this side of my face."
Bieber goes on to say, "So for those who are frustrated by my cancellations of the next shows, I'm just physically not capable of doing them. This is pretty serious, as you can see. I wish this wasn't the case, but obviously, my body's telling me I gotta slow down, and I hope you guys understand."
According to the Mayo Clinic, Ramsay Hunt syndrome "occurs when a shingles outbreak affects the facial nerve near one of your ears. In addition to the painful shingles rash, Ramsay Hunt syndrome can cause facial paralysis and hearing loss in the affected ear."
Ramsay Hunt syndrome can happen to anyone who has had chickenpox. "Once you recover from chickenpox, the virus stays in your body - sometimes reactivating in later years to cause shingles, a painful rash with fluid-filled blisters," per the Mayo Clinic.
Bieber says he'll be using this time off to "rest and relax." He says he wants to "get back to 100 percent so that I can do what I was born to do. But in the meantime, this ain't it."
Bieber didn't go into much detail about his treatment plan, other than doing facial exercises. "I'm doing all these facial exercises to get my face back to normal. And it will go back to normal. It's just time, and we don't know how much time it's going to be. But it's going to be okay."
Typical treatment for Ramsay Hunt syndrome, per the Mayo Clinic, includes antiviral medications, steroids, antianxiety medications, or pain relievers. Home remedies consist of using moisturizing eyedrops for dryness, applying ointment to the eye at night, and taping the eyelid shut or wearing an eye patch. If a rash is present, the Mayo Clinic recommends keeping the affected area clean using a cool, wet compress and taking an over-the-counter pain reliever or anti-inflammatory drug, such as ibuprofen (Advil, Motrin IB, etc.).
All in all, Bieber sounds optimistic about his recovery. "I have hope. And I trust God," he says toward the end of the video. In the meantime, he's going to focus on getting some rest. "I love you guys. Peace," he says to close out the clip.
Bieber's Ramsay Hunt diagnosis comes just a few short months after his wife, Hailey Bieber, was taken to the hospital after experiencing "stroke-like symptoms." Sending good health and quick-recovery wishes to the Bieber household.