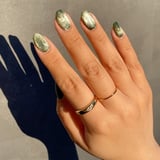 Velvet nails are trending on social media.
The nail look features the use shimmery nail polishes that look like velvet on the hands.
We rounded up the best velvet nail inspiration from Instagram.
You may consider yourself to be pretty well-versed in the
world of nail art
. We may personally know someone who follows more manicurists and nail inspiration accounts on Instagram than they do their own friends. But if you have yet to hear about a nail trend making its resurgeance on social media, give yourself a moment to back in the beauty that is the velvet nail trend. If this is your first time hearing of the trend, it's understandable. The look has wavered in popularity since first being spotted on LA-based manicurist
Amy Le
's Instagram account.
Le posted a video of the dreamy, shimmery manicure and dubbed it "green velvet," and since then, the nail look has skyrocketed in popularity and is once more making it's rounds on TikTok. There are a few ways to achieve the look - whether it's a single coat of shimmer-effect nail polish or a similar finish in a gel formula - but regardlerss of which route you take, velvet nails will make for some of the prettiest nails that we've ever laid eyes on. The manicure feels especially fitting for the upcoming fall and holiday season, because it of it's luxurious, eye-catching finish.
If you're interested in achieving your own velvet nails, we discovered even more velvet-nail-art inspiration on Instagram. They have a texture to them that looks exactly like the fabric - so much so that you can almost imagine how soft they feel. Some have a slight shimmer to them while others are matte. They also work on acrylic and natural nails, and come in a range of colors. In other words, this manicure is the epitome of versatility.
Keep scrolling to see more velvet-nail-art inspiration. It is absolutely understandable if you need to take a moment to phone your nail salon after scrolling through these pictures.