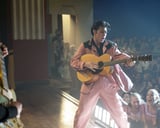 Baz Luhrmann's newest highly anticipated movie, "Elvis," hit theaters on June 24, starring Austin Butler as the man himself, Elvis Presley; Tom Hanks as his agent, Tom Parker; and Olivia DeJonge as the one and only Priscilla Presley.
You don't even have to make it through the three-minute and 16-second trailer to know that Luhrmann - and his entire team of creatives - did it right with this film. Butler disappears into his character, nailing every last detail from the singer's voice to his iconic hairstyle and prosthetic chiseled jawline.
The hair and makeup team had the particularly important job of transforming the main characters into incredibly well-known, well-documented people, and not a single hair could be out of place. "Baz is incredibly visual and very specific in what he wanted, so our conversations were a lot about not replicating or impersonating anything, but rather to represent and respect," Shane Thomas, the hair and makeup designer for the film, tells POPSUGAR.
Thomas wanted the movie's beauty looks to honor Elvis and Priscilla as the "fashion-forward characters" that they are and take you through three decades of their lives together. He had full support from his director. "Baz is very hair-obsessed," Thomas says. "It has to be perfect, so he gives you the time to make it perfect. One of his famous quotes while we were filming was, 'The hair has spoken, so we can roll the cameras.'"
Ahead, he shares more behind-the-scenes details about the hair and makeup in "Elvis," like how long it took to get Butler into character and how they used makeup and prosthetics to "travel through the decades."