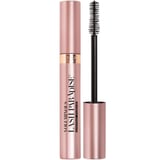 Whether you're heading on a beach vacation or planning on crying your eyes out at a wedding, a waterproof mascara is key.
Finding a waterproof mascara that checks all the boxes can be difficult, but we rounded up the absolute best.
Keep scrolling to see all of our picks for the best waterproof mascaras.
There are a lot of reasons you could need a heavy-duty, waterproof mascara. For one, summer is coming, and summer means it's really hot out there, which makes for some sweaty situations and, by default, a smeared-mascara situation - if you haven't found your trusty waterproof hero yet.
There's no trust like the trust you put in a waterproof-mascara formula. Whether you're swimming in a pool, preparing for a particularly humid day, or bawling your eyes out during a heartfelt moment in your favorite rom-com movie (we don't judge), you're putting your faith in that tiny tube of mascara that it won't leave you looking like a raccoon when it's all said and done.
Long-lasting, waterproof mascaras aren't hard to come by, but finding one that really - and we mean really - works is. Only the toughest, most resilient waterproof formulations will do. Waterproof mascaras work by utilizing a chemical called dimethicone copolyol, which is a water repellent. The chemical allows the makeup to adhere to the lashes without fear that water will remove it. When it's time to remove your waterproof mascara, you'll want to make sure you treat your eyelashes with extra care. Make sure you're using an oil-based makeup remover and that you're generous with the amount you're using.
To make your search for your perfect match a little easier, we rounded up the best waterproof mascaras ahead and our favorite waterproof-mascara makeup remover to make sure you have all your bases covered.