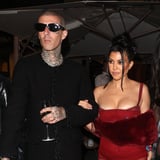 Image Source: Getty/NINO
Kourtney Kardashian and Travis Barker have officially tied the knot, and their wedding provided endless beauty moments for the internet. The bride was a vision all on her own and flaunted her gorgeous satin skin and various smoky eye makeup looks throughout the big events. But the best part of her entire look? Her '90s supermodel manicure.
In contrast to her edgy fashion choices throughout the weekend, Kardashian's nails were a minimalist's dream, pared-back and devoid of any nail art. In a sweet shot shared by Barker's daughter, Kardashian's bridal manicure is a soft almond shape with a simple, sheer-pink base color - all key characteristics of the trending '90s supermodel look. The trend, which has recently seen a drastic increase in popularity, has been worn by everyone from Jennifer Lopez to Dove Cameron. With Kardashian being the latest to provide her stamp of approval, rest assured it won't be going anywhere any time soon.
Other stand-out beauty looks from the event include Kim Kardashian's platinum Pamela Anderson-inspired hairstyle and Pete Davidson nail art and Kylie Jenner's trendy chrome french manicure.
Take a closer look at Kardashian's manicure below.
Image Source: Instagram user: @alabamaluellabarker