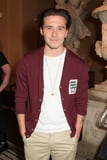 When it comes to Brooklyn Beckham's tattoos, you can say the apple definitely didn't fall far from the tree. Much like his former soccer-star dad, the eldest son of David and Victoria Beckham actually has a rather large collection of body art - and each one seems to be more meaningful than the next. While most are nods to his famous family, Beckham's most recent designs have been dedicated to his wife Nicola Peltz. Shortly after their April 2022 nuptials, he permanently etched his vows for Peltz on his body. (Before that, he also got the actor's eyes tattooed on the back of his neck, as well as the exact words of a love letter that she once wrote him.)
The gesture was really sweet, but it's not even close to being the only meaningful piece of ink he has. Beckham got his first tattoo back in 2016 from one of his dad's favorite artists, and five years later, he now has a collection of more than 30 designs. Most of his tattoos are sweet tributes to his parents, his siblings, and his partner, but he also has a few others that are reflections of his personality and the things he cares about.
Keep reading to see them all (or, at least, all of the ones that are in plain sight).