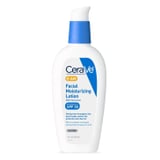 With summer arriving, it's especially important to wear sunscreen every day.
Sunscreen protects your skin from harmful UVA and UVB rays from the sun.
Here, dermatologists recommend their favorite drugstore sunscreens that are good for you and your bank account.
Sunscreen is an often forgotten step in many people's skin-care routines, but any dermatologist will tell you that wearing it is vital to your skin's health. Why? Because it keeps your face, neck, and body protected from the sun's harmful UVA and UVB rays. Even on overcast and rainy days - or days spent inside when sunscreen feels like an unnecessary addition to your morning routine - it is important to slather it on.
It can be difficult to find the perfect sunscreen formula for your skin, especially when it doubles as a base for your makeup. You don't want an SPF moisturizer that is sticky, heavy, or greasy. There are also a lot of options to consider for chemical vs. physical sunscreens. Whether you want a drugstore sunscreen for sensitive skin, a water-based sunscreen, or a reliable noncomedogenic sunscreen from the drugstore, there are plenty of products to shop for.
With affordability in mind, we asked a handful of board-certified dermatologists to share their favorite drugstore SPF. This list features quality formulas that won't break the bank. So, here are some of the best drugstore sunscreens they recommend to fit every budget.